Nombre: MBLAQ
Significado: Music Boys Live in Absolute Quality
Numero de miembros: 5
Debut: 15 de Octubre del 2009
Pais: Corea del sur
Estilo: R&B,Pop
Agencia: J Tune Entertainment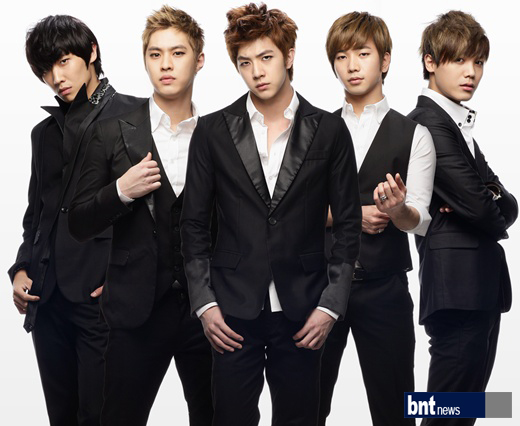 Grupo Surcoreano formado por cinco chicos creado por Rain bajo su discográfica J. Tune Entertainment. Habiéndose entrenado durante dos años, MBLAQ fue anunciado por primera vez el 21 de septiembre de 2009, con una aparición en la revista Nylon.

MBLAQ apareció junto a Rain, en su conciertoLegend of Rainism. Se presentaron varias canciones de su producción, fueron recibidos con elogios.

El grupo sacó Teasers para su canción Debut "Oh Yeah" el 12 de Octubre del 2009. Lanzó una seductora cancion para su debut, "Oh Yeah" el 14 de Octubre, con el video musical que se lanzaron dos días más tarde. Coincidiendo con el video musical, el álbum debut de MBLAQ "Just BLAQ" fue sacado a la venta el mismo día, encabezado las listas de varias radios en Corea del Sur. Al día siguiente, el grupo hizo su debut de difusión en Mnet's M!countdown, cantando "Oh Yeah".

A principios de diciembre, el grupo debutó en Japón, siguiendo la actuación durante el encuentro de fans de Rain.

Han aparecido en programas de variedades como: MBLAQ's Art of Seduction, Idol Army, Celebrity Goes To School, Sesame Player y Hello baby!.
El tema Again de MBLAQ fue utilizado como acompañamiento de la película Fighter. (ver MV)
El tema en Japonés Your Luv de MBLAQ está siendo utilizado como OST del anime Blade.
El tema Baby U! fue utilizado como el 4 opening del anime Beelzebub.
Participaron como jurados en el "KPOP Cover Dance Festival" que se llevo a cabo en Septiembre del 2011 en Brasil, la Luz Parque el 7 de septiembre.
El 20 de agosto de 2011 en el Gimnasio Jamsil MBLAQ celebro su primer concierto en solitario, titulado "MEN IN MBLAQ" ante la presencia de 7.000 fans.
La cantante ecuatoriana Andrea Bucaram, plagió descaradamente la canción Oh Yeah y la presentó en programas de Ecuador bajo la frase: "Yo la hice". En cuanto los integrantes del grupo se enteraron, G.Ohizo un comentario curioso: "Wow, si que sabe copiar!"
White Forever es el primer single navideño de MBLAQ y la compañía J.Tune camp.
Participaron en la 5 temporada de Hello Baby!.
La primera Sub-unidad sacara su primer mini album en mayo y esta a cargo de G.O y Mir

MBLAQ en Sudamérica
El 6 de septiembre MBLAQ llegó a Brasil. Cientos de fanáticas recibieron al grupo surcoreano a su llegada al aeropuerto.
Dos integrantes de MBLAQ (G.O y Mir) llegaron al Perú el jueves 15 de setiembre a las 7:45 am acompañados de Park Bo Young, Park Jung Ah, Kim Ho Jin, y Goo Jun Yeob en un viaje de voluntariado para una emisión de el próximo "Dream KOICA".